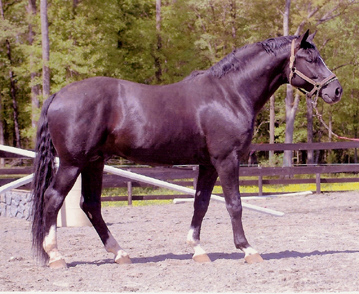 Riesling



2001 Hannoverian
Black – 16.2h / 1.68m
Rotspon
Rubinstein I
Rosenkavalier
Hauptstutbuch Antine
St.Pr. Hauptstutbuch Alina
Argentan
St.Pr. Hauptstutbuch Paragona
Hauptstutbuch Alina
Argentan
Absatz
St.Pr Hauptstutbuch Worms

Hauptstutbuch Doreen

Dynamo
St.Pr Hauptstutbuch Duerka
Imported from Germany in 2002, Riesling's decendency is of great reknowns. Sired from Rotspon, Riesling is a reasonable expectation from his sire line Rubenstein I. Riesling has a wonderful temperament, won Grand Champion at Tarmstedt (Germany) at only 3 months of age and is currently ranked Reserve Champion in his zone. Having recently started under saddle, he is a beautiful mover with exceptional form over fences, including a natural lead change. We expect to see great things from this Stallion.
Riesling's Sire, Rotspon, is one of the top up and coming Stallions of Germany. The tall and elegant son of Rubinstein received his approval as a junior stallion in Verden, and was already considered by many as the true winner, since he was the absolute favorite of the audience. He substantiated this high assessment at his stallion performance test in October 1998, which he won sovereignly. Like his father, the famous Rubinstein, Rotspon is a very impressive horse with great rideability, outstanding temperament, movements and a high aptitude for dressage. He also shows good jumping technique which is highly above average. Rotspon has been consistent in producing top offspring including winners at the prestigious Ratje Niebuhr show in Verden, Germany. He has already proven to produce beautiful heads, a long sloping shoulder as well as a long, well set neck. His foals inherit his elastic trot and ground covering walk.
In addition to Riesling, other great stallions produced by Rotspon include Rascalino (who clearly shows the influence of his well-known sire in appearance and in performance. The 16.1H black stallion was Champion of the 2004 Adelheidsdorf 70-Day Performance Test and won the 2004 100-Day Testing. He not only was impressive in dressage, but also in jumping). Equally as impressive as Roscalino is Royal Blend (who won the 2005 Burchard-Müller Prize as Best Young Stallion. The elegant 16.2 H chestnut stallion was also Reserve Champion of the 2004 Stallion Performance Test with excellent marks in all areas, including character, performance ability and rideability as well as exceptional gait scores.) Both Rascalino and Royal Blend are breeding with the Hannoverian Society in Celle, Germany.
The career of Rubenstein I is marked with tremendous highlights. He was the first runner-up of the Stallion performance test, winner of the Optimum of Westphalian Riding horses in Munster in 1990 and I-a main premium winner in Oldenburg in the same year, as well as being federal vice-champion six year old dressage horse in Verden in 1992. He had a remarkably successful career with different riders up to Grand Prix, before passing early in 2000. Rubinstein I had an exemplary siring career. There are meanwhile more than 400 mares sired by him registered in the studbooks of German breeder's associations. About 60 sons have been approved, including stallion performance test winners and riding horse championship winners. Rubinstein was known to consistently pass on his wonderful temperament and movement as well as a great improver for the breed.
Rieslings's damsire Argentan (1967-1996), (called ' Celle 's best civil servant', because he was one of very few stallions that was able to pass onto his offspring a series of qualities in their entirety) had the reputation of being a phenomenal "maker of mares" in the Hannovarian breeding region. He was 1994 Hannoverian Stallion of the Year and was one of the last sons of the famous Absatz to stand at stud. Argentan represented character (no vices, dependable, never sick), a strong constitution, a correct exterior, as well as a willingness and ability to perform. Argentan has sired Agentinus (sire to Aramis, Grand Prix jumper, Canada , and Anka, Grand Prix winner in Calgary in 2004.
Additional Pictures and Video Coming Soon!